From Historic Architecture to Watery Fun - A City Guide to Exeter
From Historic Architecture to Watery Fun - A City Guide to Exeter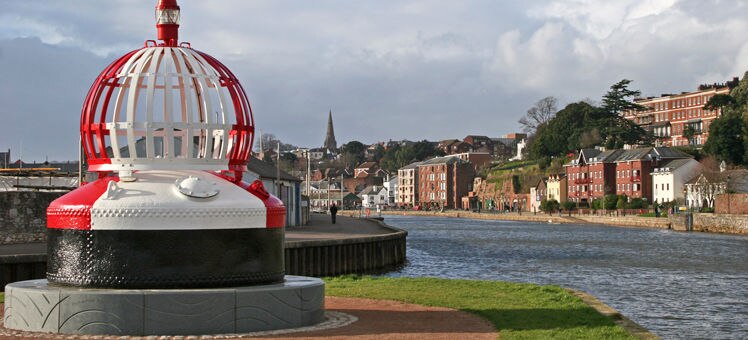 The vibrant historic university town of Exeter has a reputation for celebrating the past, present, and future in equal measures. History buffs can discover the city's wealth of artifacts and trace its heritage back to the days of Roman rule. Exeter's waterfront location also makes it an ideal option for those seeking an outdoor getaway.
Ancient and medieval sites
More than 2,000 years of history can be explored through Exeter's numerous heritage and historic sites. You'll experience Roman-era ruins, mysterious underground passageways from the Middle Ages, and millennium-old cathedrals - not to mention a spooky legend or 2. Most points of interest are within a 15-minute walk of Exeter's city centre, making it easy to devote a day to historic exploration. You can also take one of Red Coat's guided tours. They are free and informative, and provide a little extra detail on the sites you're seeing.
Red Coat Guided Tours, Exeter Visitor Information and Tickets, Dix's Field, Exeter EX1 1GF; Tel: +44 1392 265203; Website: Red Coat Guided Tours
The River Exe
The River Exe splits Exeter in 2, and is the main stage for outdoor activity. Equipment rental companies like AS Watersports offer day-long guided kayak tours of the river and the Exeter Ship Canal, or you can rent a kayak or stand-up paddleboard and cruise the river under your own steam. Those that would rather kick back and relax on the water can book a 90-minute jaunt through Stuart Line Cruises between March and September.
Public gardens and reserves in Exeter
Heritage buildings are not the only thing Exeter excels at preserving, as demonstrated by the various public gardens and wildlife sanctuaries around the city. The Topsham section of the waterfront is home to the sprawling Exe Estuary marshland, where birdwatchers can observe migratory waterfowl like osprey and geese during the winter. Towards the city centre, you'll see historic public greeneries like Rougemont Gardens, which was a defense ditch for William the Conqueror's castle hundreds of years before it became a bed of colourful flowers.
Exeter's rich cultural scene
It's only natural for city over 2,000 years old to have a vibrant cultural landscape. As one may suspect, a healthy chunk of the Exeter's culture is near the compact downtown. There are many opportunities to dig deeper into Exeter's history through venues like the Royal Albert Memorial Museum & Art Gallery. The downtown area is also home to several venues that showcase live music, film, and other expressions of the contemporary arts, when you're ready for a pause from the past.
Shopping in Exeter
Exeter's ability to infuse historic architecture with the joys of modern retail makes its shopping scene one of the most interesting in the region. Centuries-old landmarks like Exeter Cathedral watch over compact, open-air shopping areas such as the acclaimed Princesshay Quarter, or the boutique store-centric Cathedral Quarter. Some of Exeter's quirkier shopping experiences can be found by venturing into the West Quarter near the River Exe. Here, you'll find an eclectic collection of independent shops, ranging from arts and crafts stores to antique markets.