Beaches, Wildlife, Island and Inland Excursions - What to See and Do in Townsville
Beaches, Wildlife, Island and Inland Excursions - What to See and Do in Townsville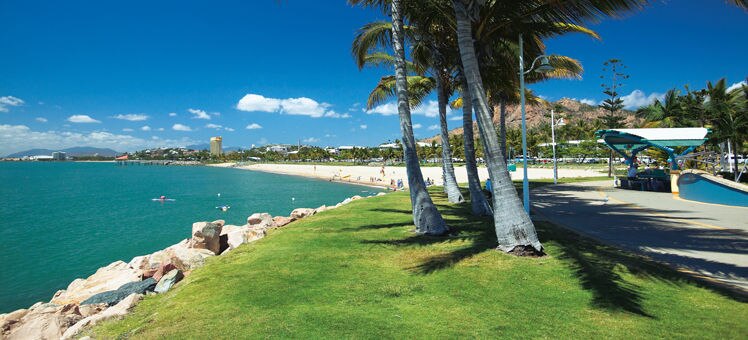 Whether you want to lie back and do nothing, or an active vacation is your scene, Townsville has you covered. There are palm-lined beaches, a plethora of marine life just below the water's surface, and native wildlife at your doorstep. If you feel like venturing further afield, Townsville is an ideal launching pad for trips to Magnetic Island, the Great Barrier Reef, and the Queensland outback.
Beach life in Townsville
Townsville offers a host of beaches where you'll find swathes of golden sand leading to crystal clear water. The Strand is dotted with fun cafés, like the Fisherman's Landing Kiosk, picnic spots under the palm trees, and enclosures for safe swimming. The water playground and the enclosed Rock Pool are magnets for families. Head further north and you may well have pristine beaches like Rowes Bay, Saunders, and Bushland almost to yourself. The islands and reef off the coast ensure there's usually little or no surf, and ideal swimming conditions.
Diving Townsville's waters
If you're looking to venture below the Coral Sea surface, Townsville has some great snorkeling and scuba diving spots. The "SS Yongala", a luxury steamer sunk in a cyclone in 1911, is one of Australia's most popular dive sites. The coral-encrusted wreck is home to a vast array of colourful marine life. Dive companies in Townsville will get you to sites on the Great Barrier Reef, including the caves and coral gardens of Davies Reef. The "Moltke" is a wreck dive accessible from the beach on Magnetic Island. You will see grouper, squirrelfish, butterflyfish, and many more fish friends.
Wildlife encounters in Townsville
Townsville gives you plenty of opportunity to get up close to native wildlife. Reef HQ is the world's largest coral reef aquarium, and home to a vast array of colourful marine creatures. You can also drop in on sick and injured patients at the Turtle Hospital. Billabong Sanctuary is home to more than 100 species of Australian birds and animals, in natural rain forest, eucalypt, and wetlands habitats. There are saltwater crocodiles to be fed, wombats and koalas to be cuddled, and even pythons to become friends with.
Swimming, walking, and lazing on Magnetic Island
Magnetic Island sits opposite Townsville, only a 25-minute ferry ride away. Two thirds of the island is unspoiled bushland, and a network of walking tracks leads you to secluded, pristine beaches. The vibrant marine life of Magnetic Island reef makes for spectacular, crystal-clear diving and snorkeling. There's a wide range of accommodation if you can't drag yourself away, and a great choice of water-view eateries. A stroll along the beach as the sun sets over the mainland is a moment you won't forget.
Outback excursions from Townsville
Townsville is not only a gateway to the Coral Sea, but also to the nearby Queensland outback. You can explore unspoiled rain forest, creeks, and a tranquil lake in Paluma Range National Park, a 90-minute drive north. For a trip back in time to the 1870s gold rush, drive inland for 90 minutes to Charters Towers. The town, which was once home to 25,000, is full of regal colonial architecture, stately homesteads, and miners' huts. If you're feeling lucky, you can pan for gold.
Discover
Find your perfect holiday in Townsville
From 240 hotels.