The Natural History Museum is one of London's most prestigious museums, attracting 4 million visitors every year. Its collection consists of about 80 million items covering zoology, mineralogy, palaeontology, botany, and entomology. The famous naturalist Charles Darwin collected some of them.
The Natural History Museum is one of 3 museums in South Kensington, together with the Science Museum and the Victoria & Albert Museum. Inside, you'll find a vast variety of captivating exhibits, ranging from massive fossils in the Hintze Hall to giant marine specimens in the Darwin Centre.
Natural History Museum in London - one of the highlights of 9 Free Things to Do in London and 5 Things to Do For New Year's Eve in London (Read all about London here)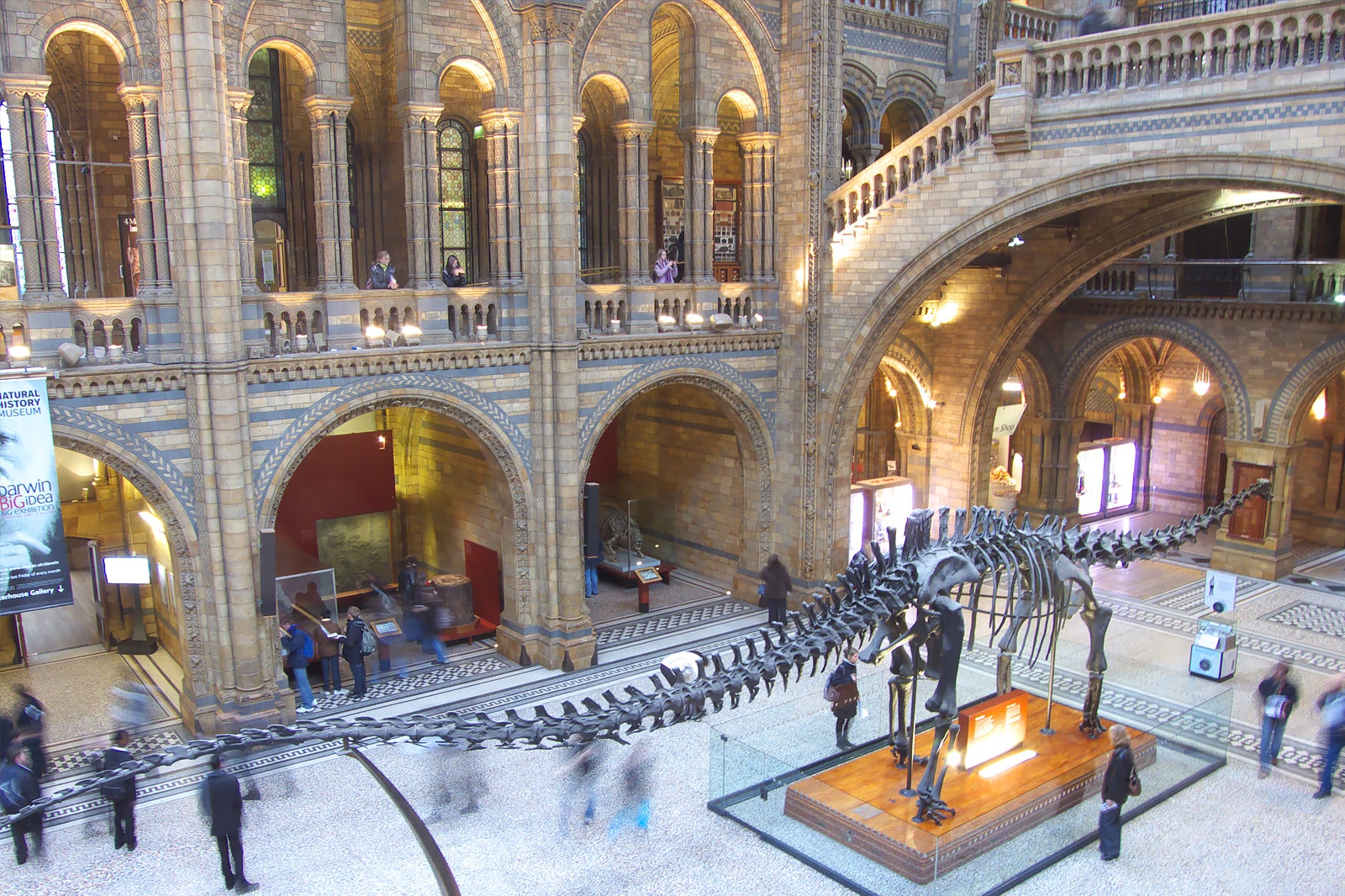 What are the highlights of the Natural History Museum in London?
Step inside the Natural History Museum and you'll find yourself in a grand entrance space called the Hintze Hall. A massive skeleton of a blue whale hangs from the roof. Take a closer look at the detail on that intricate ceiling behind it – 162 panels feature hand-drawn botanical illustrations such as sunflowers, poppies, and tobacco plants. The arches have 78 monkeys, all of which are lifelike and anatomically correct.
The first exhibits came from a doctor called Sir Hans Sloane who sold them at a bargain price to the UK government. They put them on display at the British Museum. As the collection grew, a separate natural history museum was needed. Architect Alfred Waterhouse designed a magnificent purpose-built space that opened in 1881. The splendid terracotta tiles he used were also functional – they were resistant to the soot of Victorian London.
In a museum of this size, it's tricky to know where to start. One of the must-sees is Guy the Gorilla. He arrived at London Zoo as a baby in 1947. It was December 5th – Guy Fawkes' Night – which is how he got his name. This western lowland gorilla was a gentle giant and very popular with visitors. There's a bronze statue of him at the zoo but thanks to the skill of a museum taxidermist, he lives on at the museum.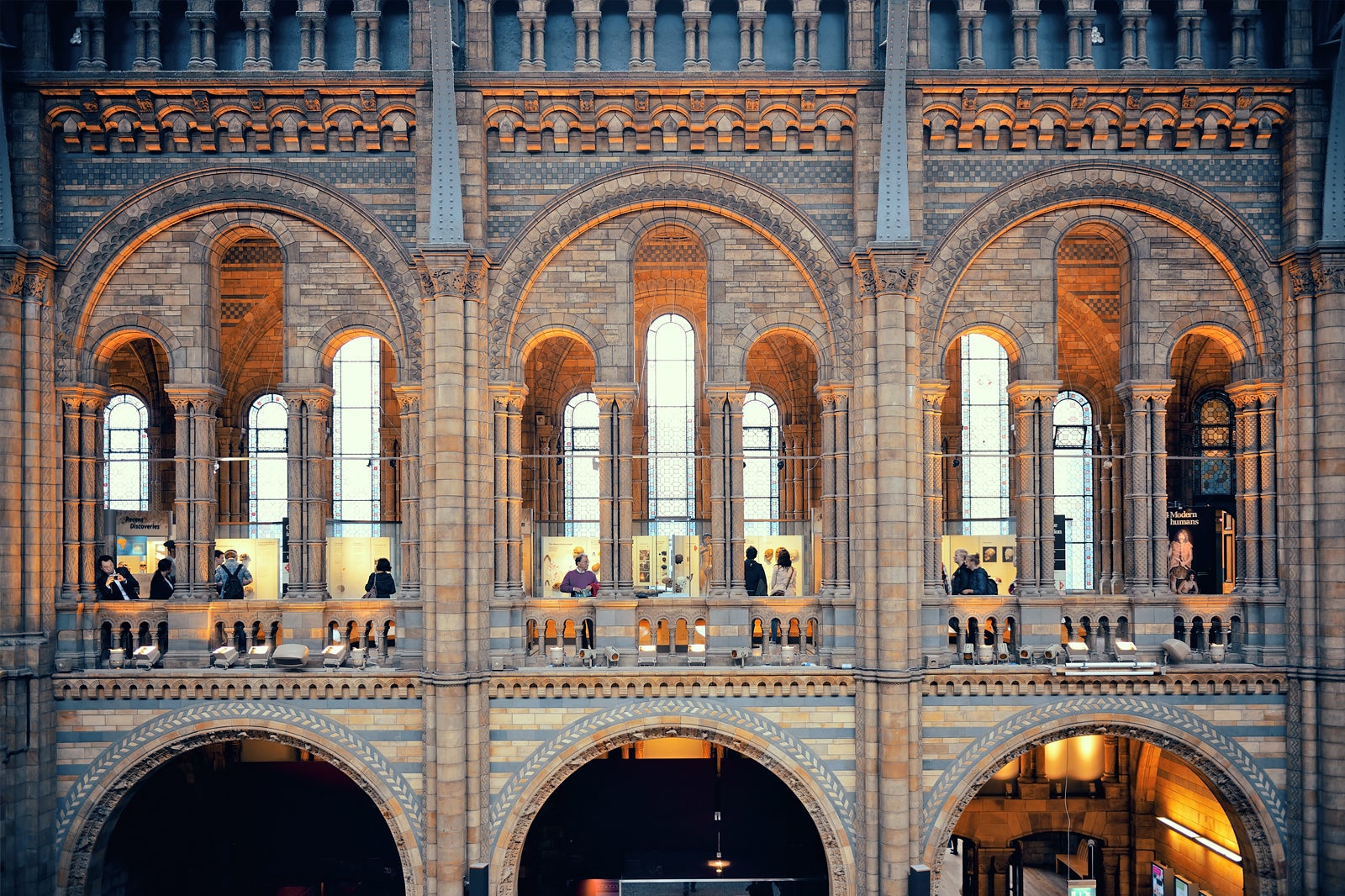 Another captivating exhibit is a giant squid in the museum's Darwin Centre. The specimen is 8.62 metres long and was frozen to preserve it. A fishing trawler accidentally caught it and it was quickly donated to the museum. The giant squid was a rare find because these enormous creatures live in the deepest parts of the ocean. They usually only appear in whale stomachs or as fragments on a beach. Curators called it Archie – they took their inspiration from its Latin name, Architeuthis dux. The museum collected DNA samples and Archie helped prove that there's only 1 species of giant squid.
Not all of the exhibits were once living creatures. One of the most fascinating objects on show is a first edition of On the Origin of Species written by Charles Darwin and published in 1859. The museum library has 477 other editions of the same book, printed in 38 languages including Braille. The museum also displays a piece of moon rock. Although NASA owns most of the samples its astronauts collected, President Nixon gave fragments to 135 countries in 1973. This is where the UK's gift ended up.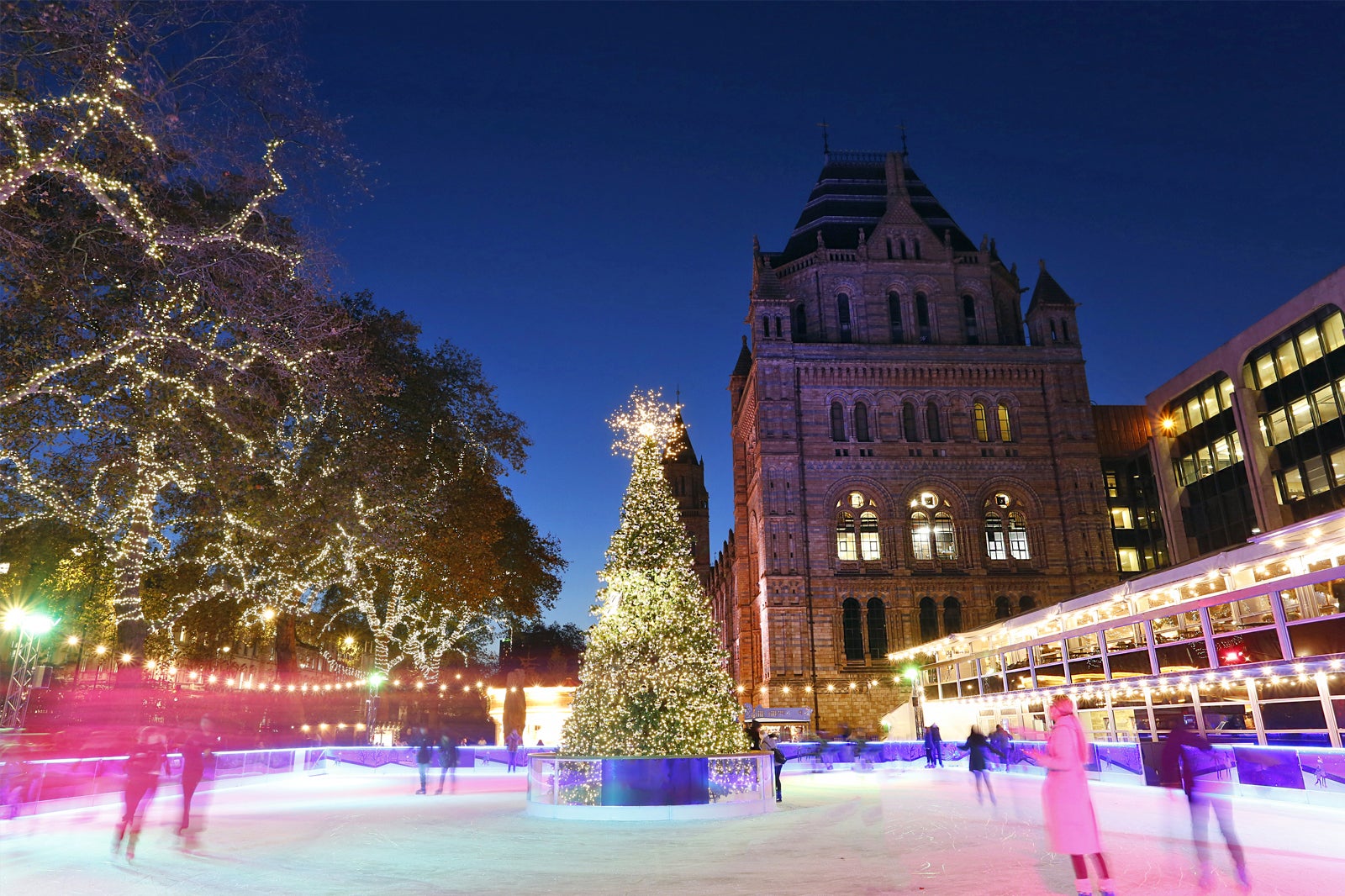 Good to know about London's Natural History Museum
The Natural History Museum, the Science Museum, and the Victoria & Albert Museum are within walking distance of each other. A pedestrian underpass connects them to South Kensington Tube station, just a 5-minute walk away. All museums are free to enter, but you must reserve a timed ticket online before your visit. You could easily spend all day in the Natural History Museum, so try to get there in the morning.
Until recently, there was a huge skeleton of a diplodocus in the Hintze Hall. Museum staff affectionately nicknamed it Dippy. The skeleton wasn't real; it was a cast moulded from the original item, located in Pittsburgh's Carnegie Museum. Wealthy businessperson Andrew Carnegie donated it after King Edward VII saw a picture of it in Carnegie's Scottish castle.
Dippy has 292 bones, which took 2 days to clean. For almost 90 years, the tail was displayed in the wrong position. Staff realised the error and lifted it to the right angle in 1993. Since February 2018, the dinosaur has gone on various tours throughout the UK.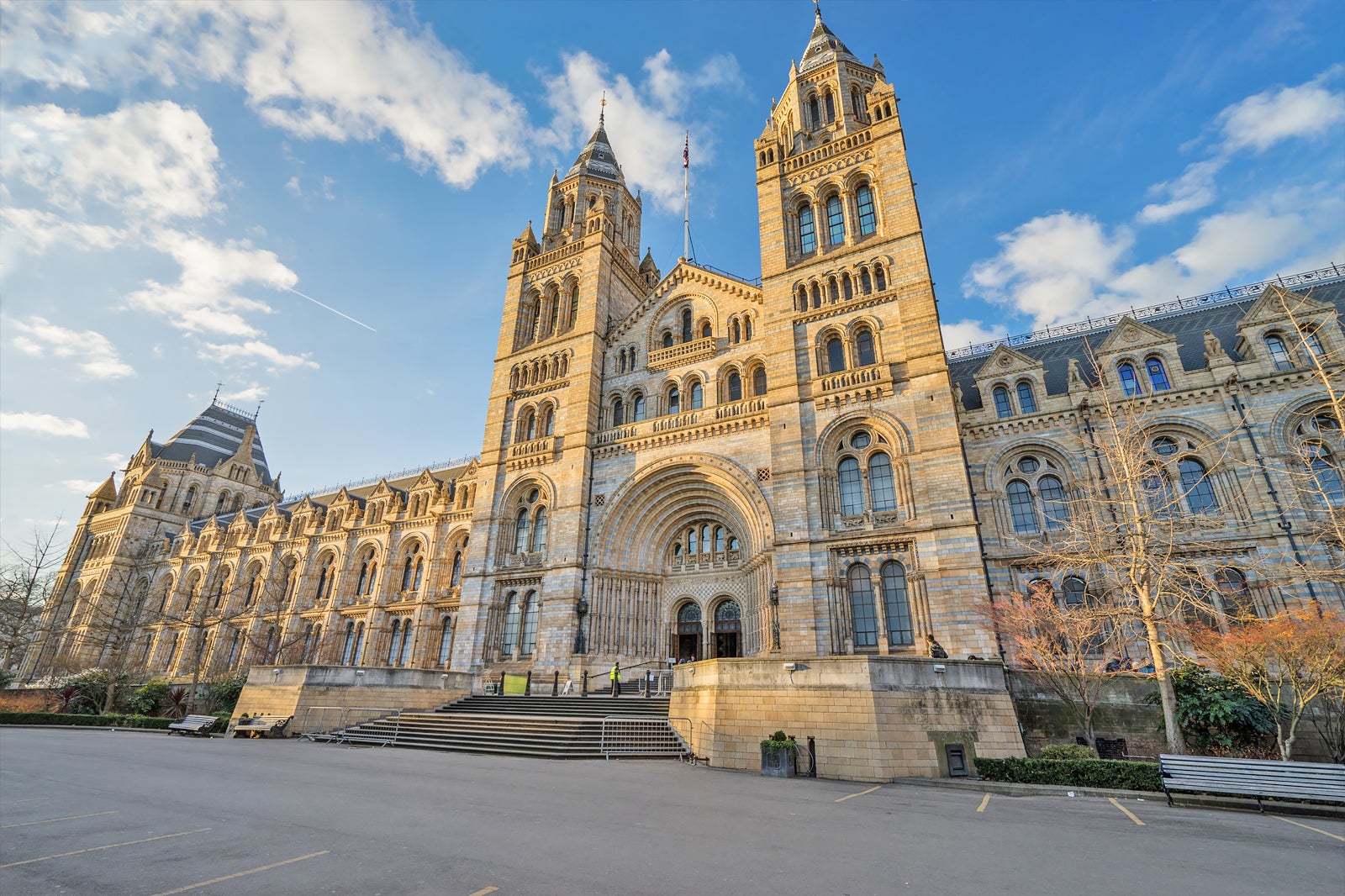 Natural History Museum in London
Location: Cromwell Rd, South Kensington, London SW7 5BD, UK
Open: Daily from 10 am to 5.50 pm
Phone: +44 (0)20 7942 5000
Back to top