10 Best Things to Do in Harrogate
What is Harrogate Most Famous For?
Harrogate may be small in size, but it packs a mean cultural punch. It's known for its parks, shops, spas and theatres. Historically something of a luxury getaway for Victorian-era tourists, it still has much of the same charm and many of the same attractions, making it just as enticing as it was in the early 1900s. Book into one of the many hotels located in Harrogate and see for yourself.
The town has something of a reputation in Yorkshire as being an upmarket destination, but no one can deny its restful atmosphere. From the steamy Turkish baths to the cobbled streets of Montpellier Quarter to the many beautiful gardens and green spaces, Harrogate is a fantastic place to find a bit of peace and pampering.
What are the best things to do in Harrogate?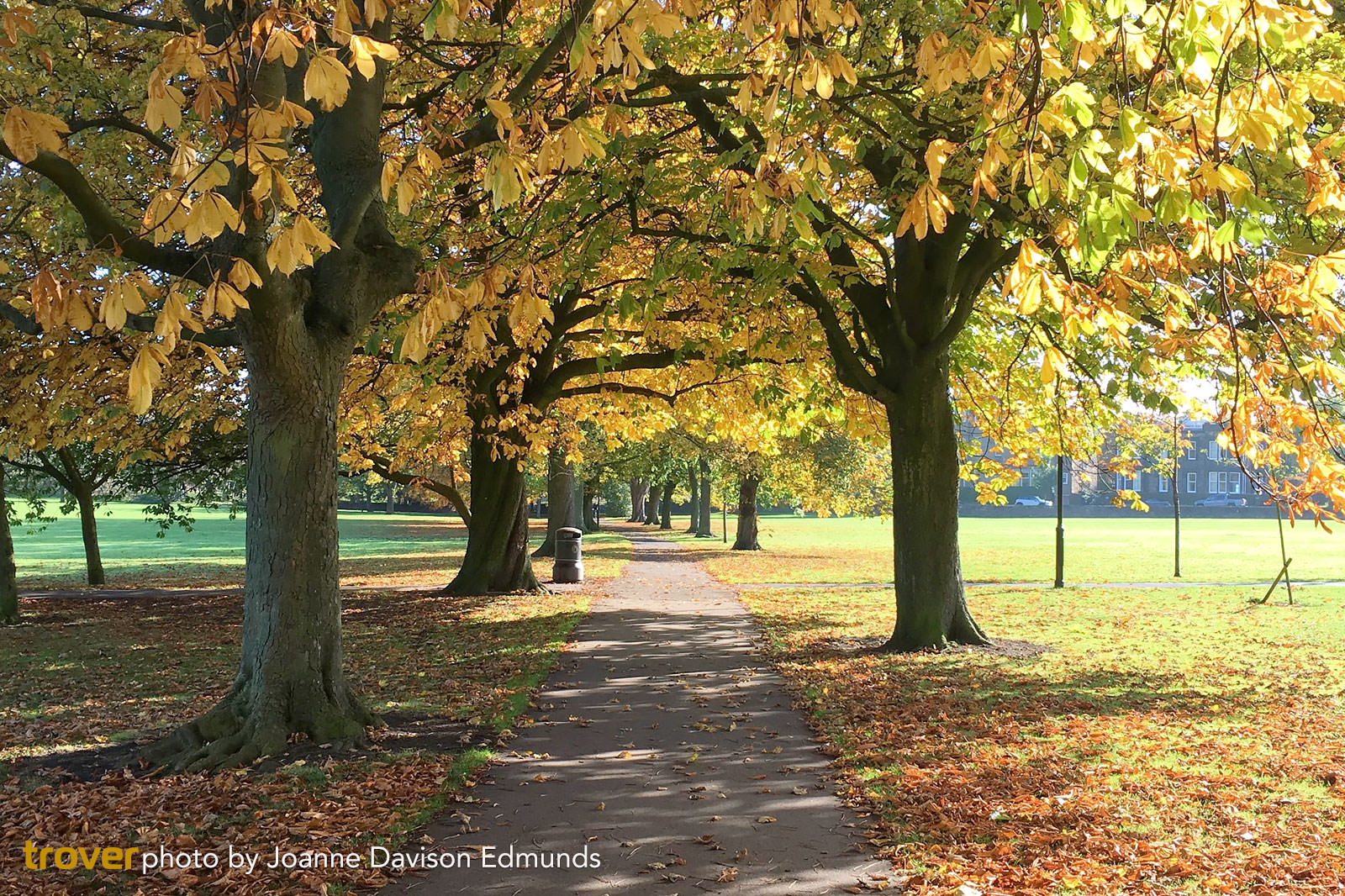 Start your day in the Stray
See the spring cherry blossoms
The Stray is one of Harrogate's best-known landmarks – a massive city centre park. According to an act of parliament, the total area can never be less than 200 acres, so any land removed has to be added elsewhere. The large lawns are popular for flying a kite, kicking a football, or enjoying a picnic, except on the spring and August bank holidays, when they host annual fairs.
The Stray is especially vibrant in the spring, when the crocuses blossom, followed by the daffodils and finally the many cherry trees, with their iconic pink bloom. The city centre park is surrounded by a variety of great cafés and restaurants, making it a pleasant place to enjoy your breakfast.
Location: 16 West Park, Harrogate HG1 1BJ, UK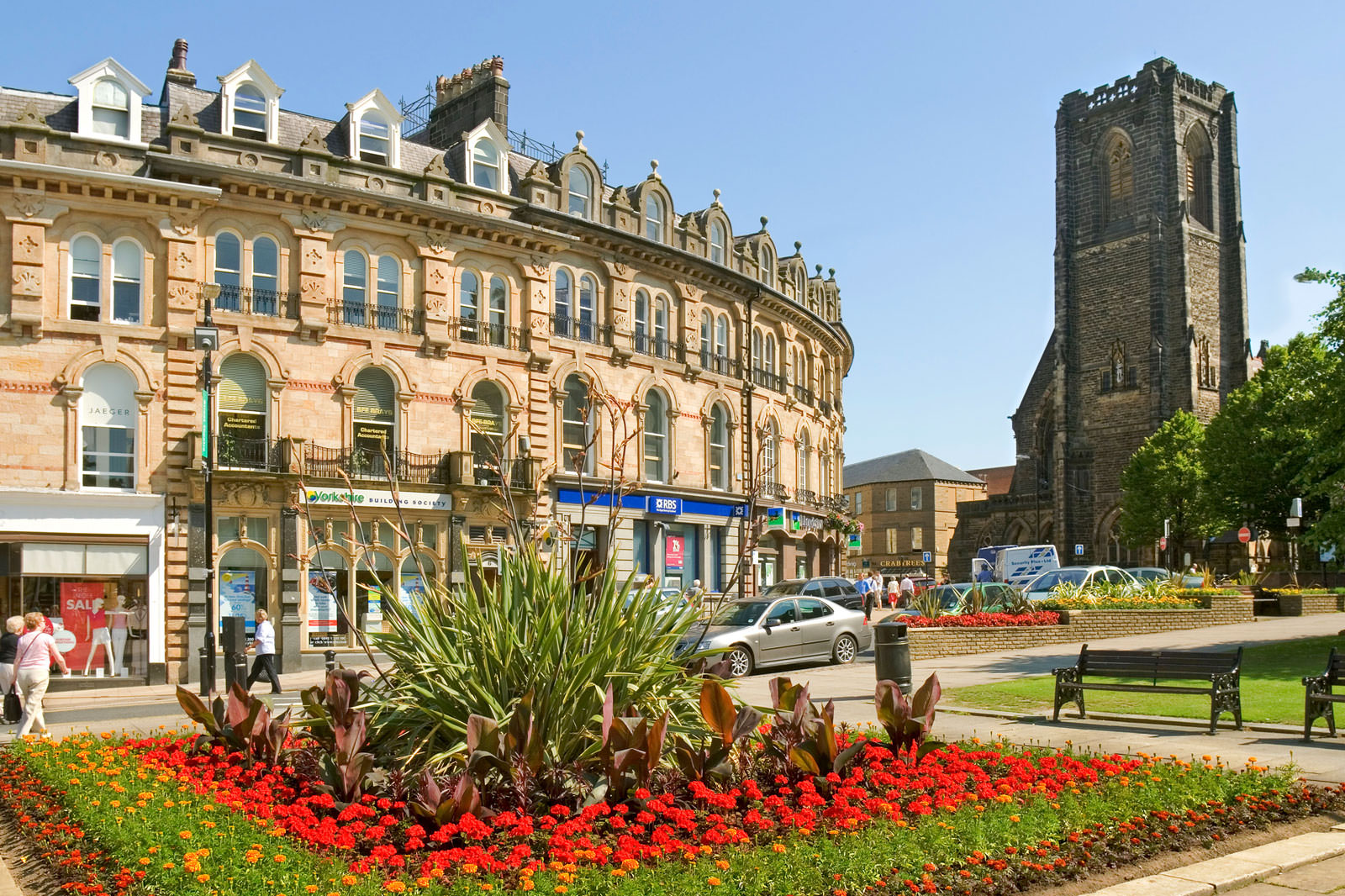 Hit the shops in Montpellier Quarter
Explore the old town
Harrogate is great for shopping, with basically the entire city centre as a single giant shopping precinct. Arguably the best bit is Montpellier Quarter. Walk the narrow cobbled streets of the old part of Harrogate and you'll find antique shops, art galleries and some high-end local boutiques in the charming historical buildings.
If you're looking for more famous brands, the Victoria Shopping Centre and the surrounding streets will give you plenty of choice. Conveniently, they're right across the road from the train station and main bus stop, about a 5-minute walk from Montpellier Quarter.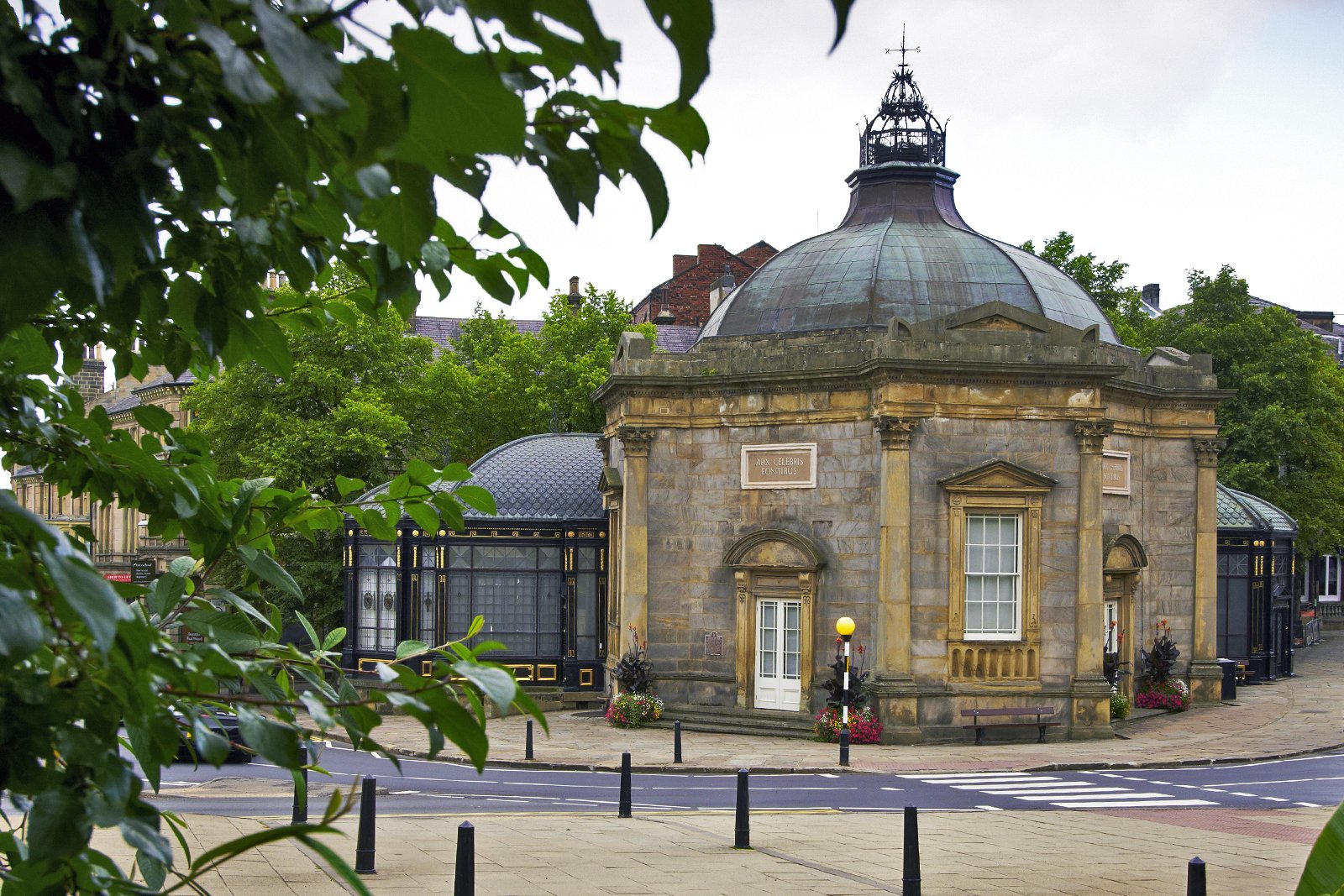 Learn about Harrogate's history at the Royal Pump Room Museum
Experience the 'healing qualities' of some of Europe's most sulphurous water
During the Victorian era, Harrogate became a very popular spa destination thanks to the water's high sulphur content. It attracted the great and good of British society at the time, as well as visitors as famous as Charles Dickens and Tsarina Alexandra of Russia. It may be closed as a spa, but it remains as a museum of those glory days. If you'd like to visit and stay nearby, there's hotel options near The Royal Pump Room.
The museum showcases an impressive selection of Egyptian artefacts, as well as some of the weirder treatments which were popular when the spa was getting as many as 15,000 visitors each summer. This includes getting a whiff of the eggy-smelling water and wondering how people ever thought drinking or bathing in the stuff would cure gout or lumbago.
Location: Crown Place, Harrogate HG1 2RY, UK
Open: Monday–Saturday from 10am to 4pm, Sunday from midday to 4pm
Phone: +44 (0)1423 556188
photo by Harrogate Museums and Arts service (CC BY-SA 4.0) modified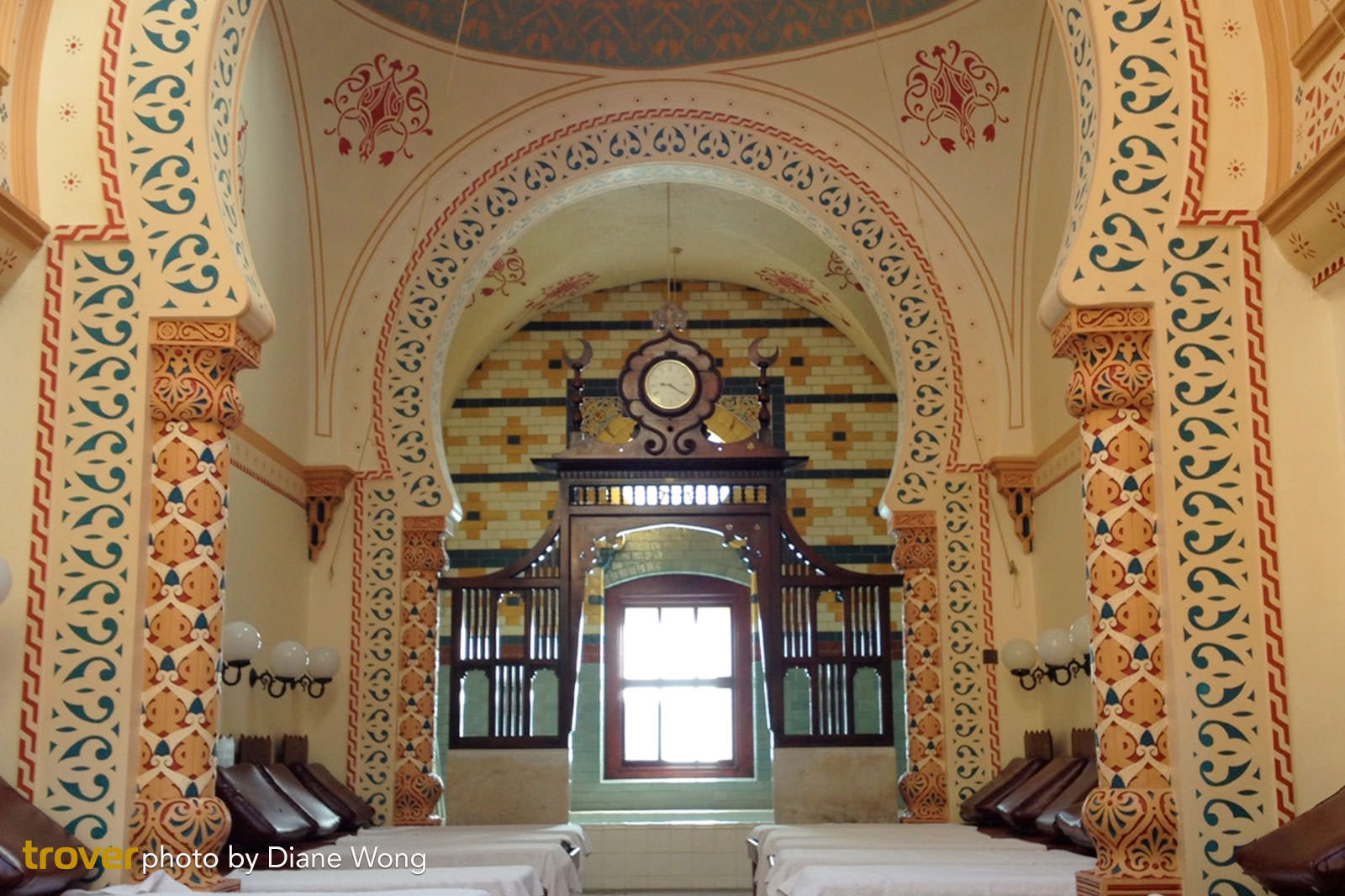 Take a Turkish bath
Relax in beautiful classical baths
While the mineral-rich waters of Harrogate are no longer sought as a miracle cure, they are still popular with those seeking relaxation. There are several spas and wellness centres around the city centre, offering massages, body scrubs and, of course, Turkish baths in the town's iconic water.
At the century-old Turkish Baths, there's a wide range of packages available, most lasting over an hour and costing less than £100 per person. Being such a well-established centre, the baths have a classical exotic look, providing the right relaxing atmosphere for your bit of 'me time'.
Location: Parliament Street, Harrogate HG1 2WH, UK
Open: Monday – Friday from 9.45am to 8.30pm, Saturday – Sunday from 9am to 8.30pm
Phone: +44 (0)1423 556746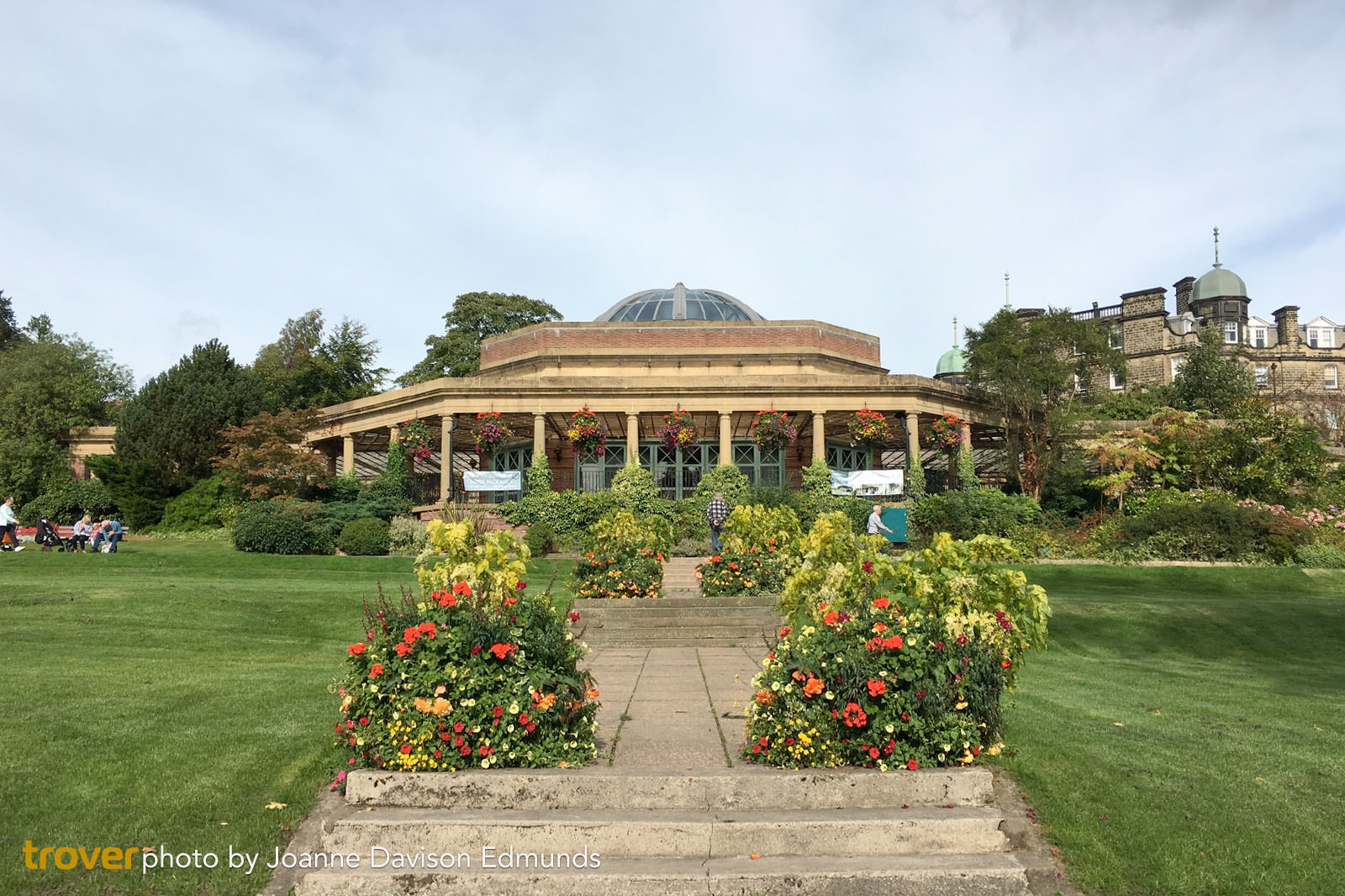 Hear the band play in Valley Gardens
See the 36 mineral springs of the Bogs Field
The centre of Harrogate is full of beautiful parks and green spaces, but the Valley Gardens are among the most striking. The 17-acre woodland has the look and atmosphere of a country estate, despite being basically in the middle of the town.
Spreading out around the Sun Pavillion, you'll find plenty of winding paths through tree-shaded greenery, as well as a couple of boating lakes, play areas, tennis courts and mini golf courses. For the real Victorian-era experience, be sure to visit the park on a Sunday during the summer. The ivy-strewn bandstand is home to a traditional brass band, playing classic oompah tunes.
Location: Valley Drive, Harrogate HG1 2SZ, UK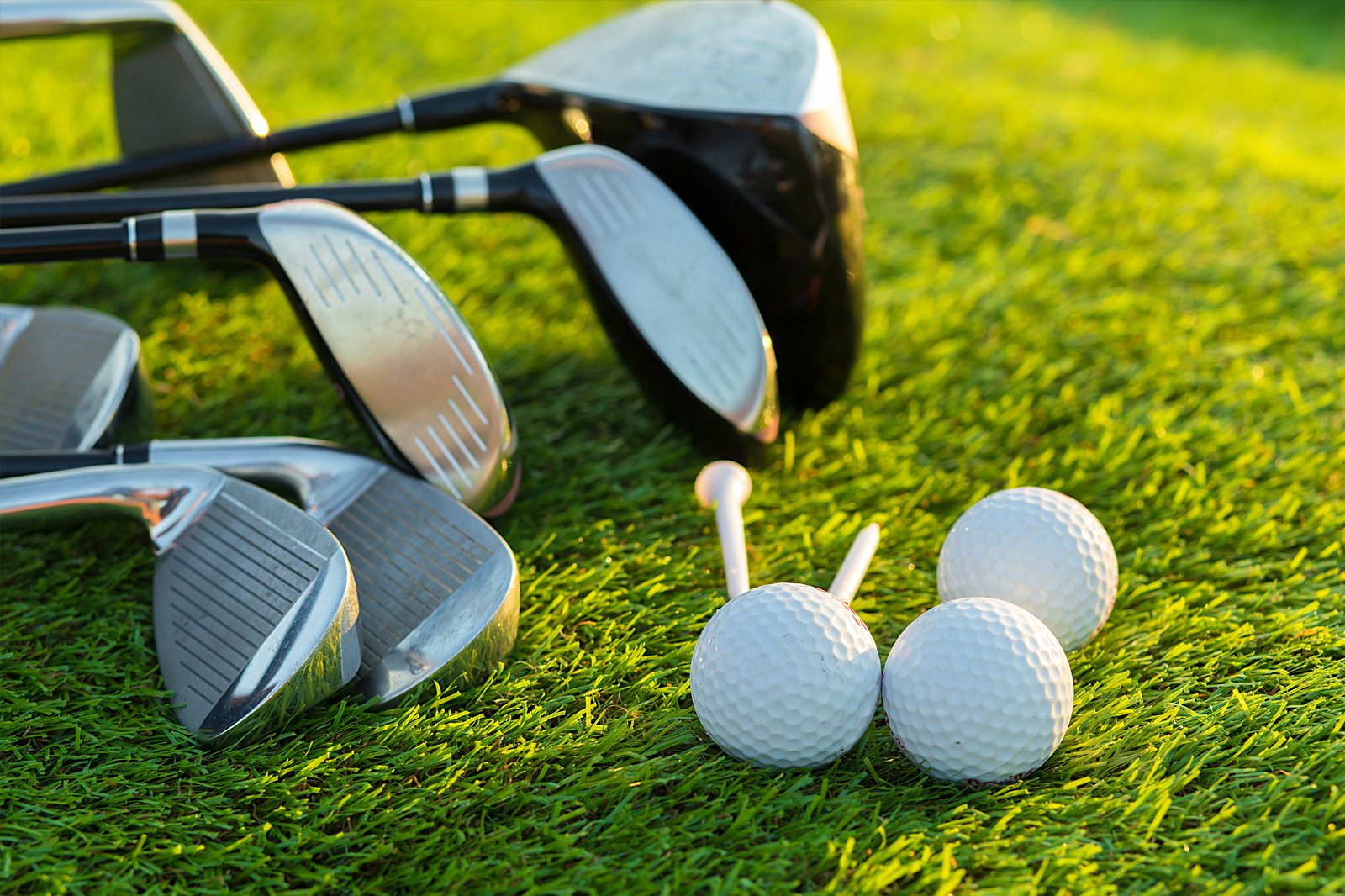 Play a round of golf
Take your pick from 5 great courses
Harrogate has no fewer than 5 high-quality golf courses within easy reach of the city centre. Most are found around the outskirts of the town or a short drive away, but one is found right by the city centre. Each has its own unique and attractive features, welcoming players of any skill or experience level.
The oldest course is Harrogate Golf Course, established in 1892. Only a couple of miles from the city centre, it has 18 holes across mostly flat terrain, a colonial-style clubhouse and a great reputation across the country. There's plenty of hotels in the area in close proximity to the Harrogate Golf Club and offering great value for money and friendly service.
Location: Forest Lane Head, Harrogate HG2 7TF, UK
Phone: +44 (0)1423 862999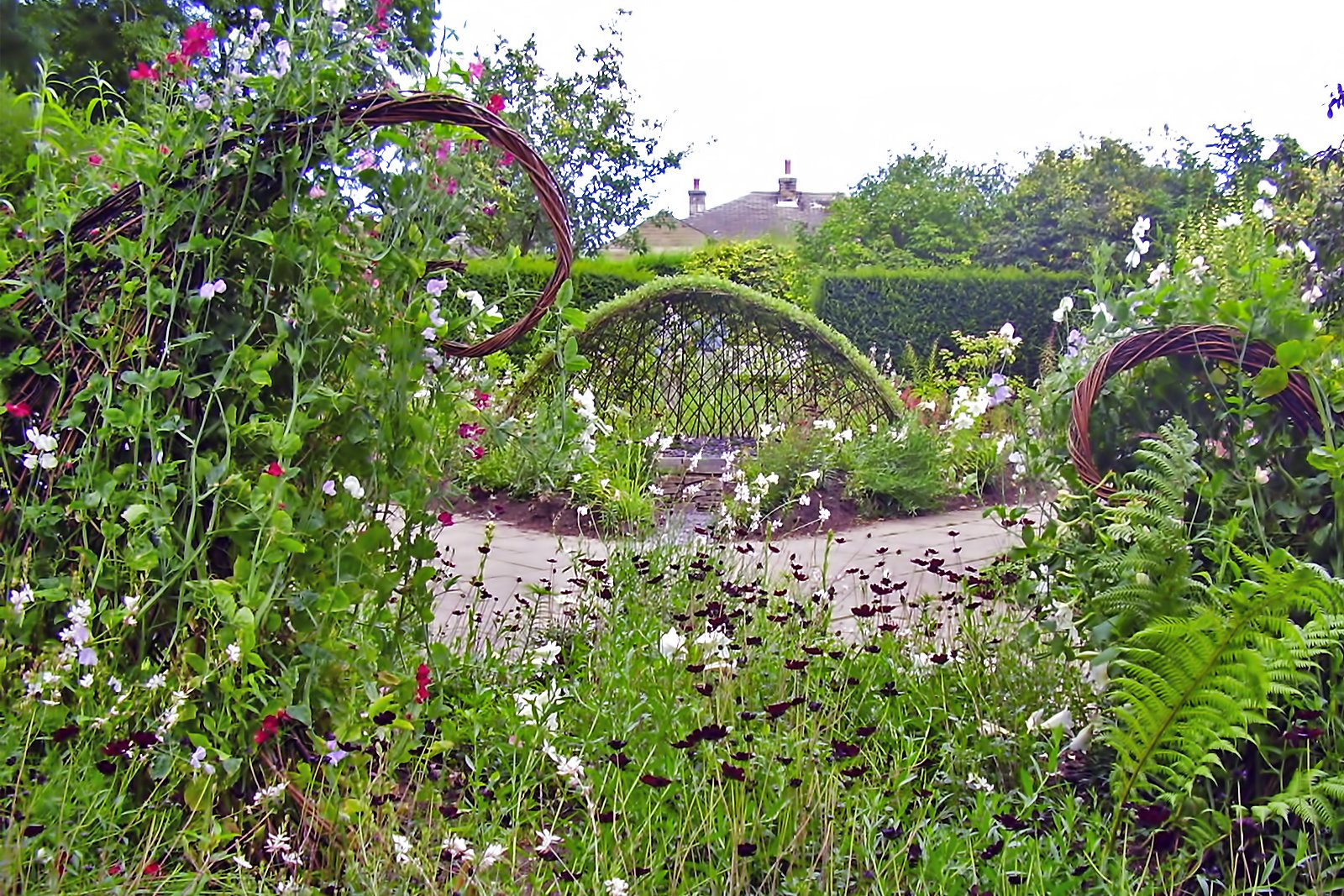 Must-See: RHS Garden Harlow Carr
Smell the roses in the Scented Garden
Proudly carrying the name of the Royal Horticultural Society, Harlow Carr is a stunning 68-acre garden just to the southwest of Harrogate city centre. A showcase of gardening excellence, it's designed to represent natural environments like wildflower meadows and woodlands, but at their most vibrant and colourful.
Be sure to check out the Scented Garden, designed to be as much a treat for your nose as it is for your eyes. If you're not visiting Harrogate in the spring or summer, the Winter Walk offers some striking displays.
Location: Crag Lane, Harrogate HG3 1QB, UK
Open: Winter: daily from 9.30am to 4pm. Summer: daily from 9.30am to 6pm
Phone: +44 (0)1423 565418
photo by Chris Page (CC BY-SA 2.0) modified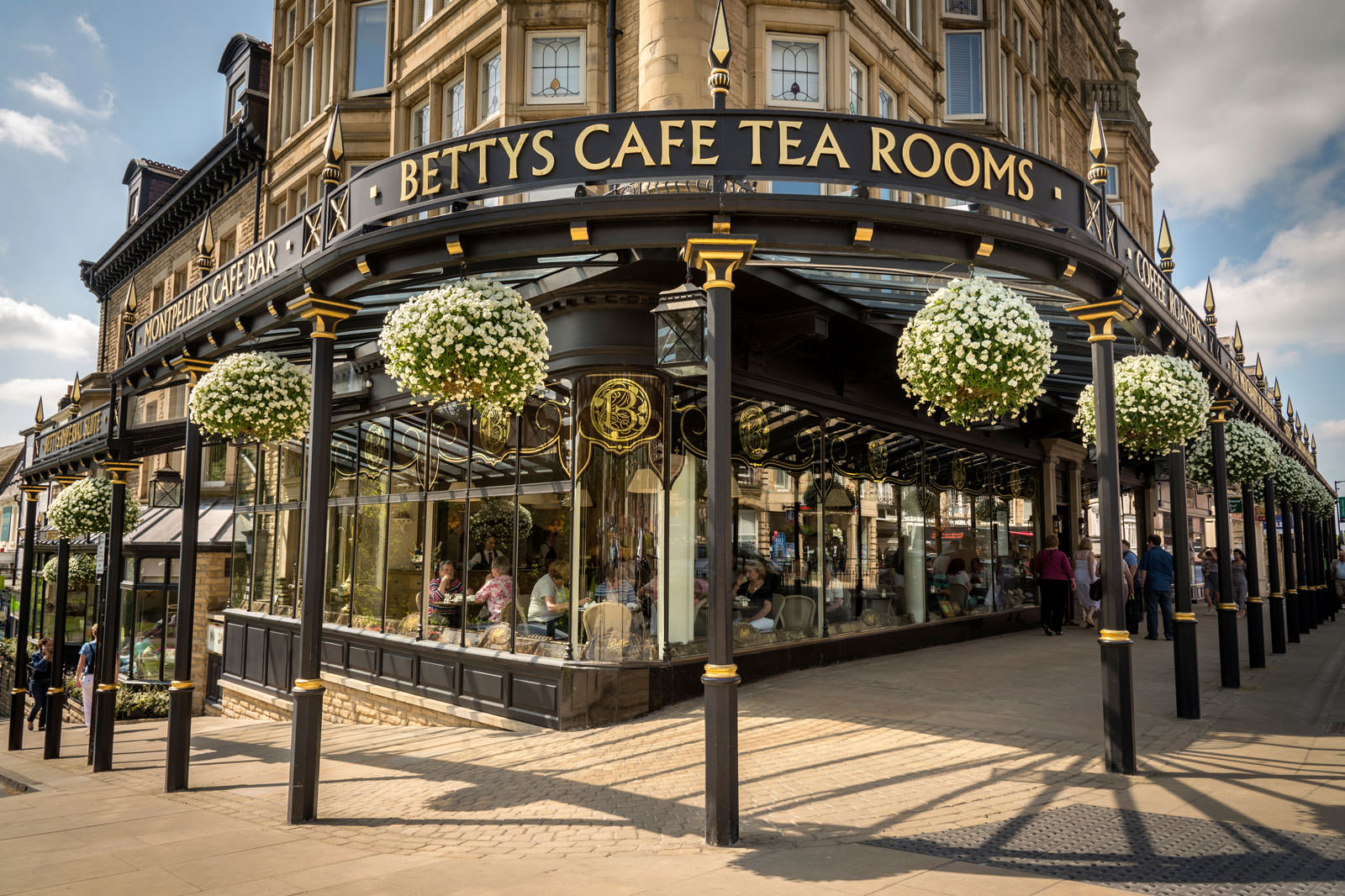 Take afternoon tea at Bettys Tea Rooms
Experience a Yorkshire institution
Bettys Tea Rooms are practically synonymous with Yorkshire. It's almost impossible to say you've visited the county without having sipped the signature blends and enjoyed the delicate scones, sandwiches and cakes of this iconic café. With outlets both in the old part of the town centre and at RHS Garden Harlow Carr, there's plenty of opportunity.
Being such a popular institution, Bettys is busy throughout the day, and doubly so around 4pm for Afternoon Tea. It is strongly recommended that you book online in advance to save having to queue for ages.
Location: 1 Parliament Street, Harrogate HG1 2QU, UK
Open: Daily from 9am to 9pm
Phone: +44 (0)1423 814070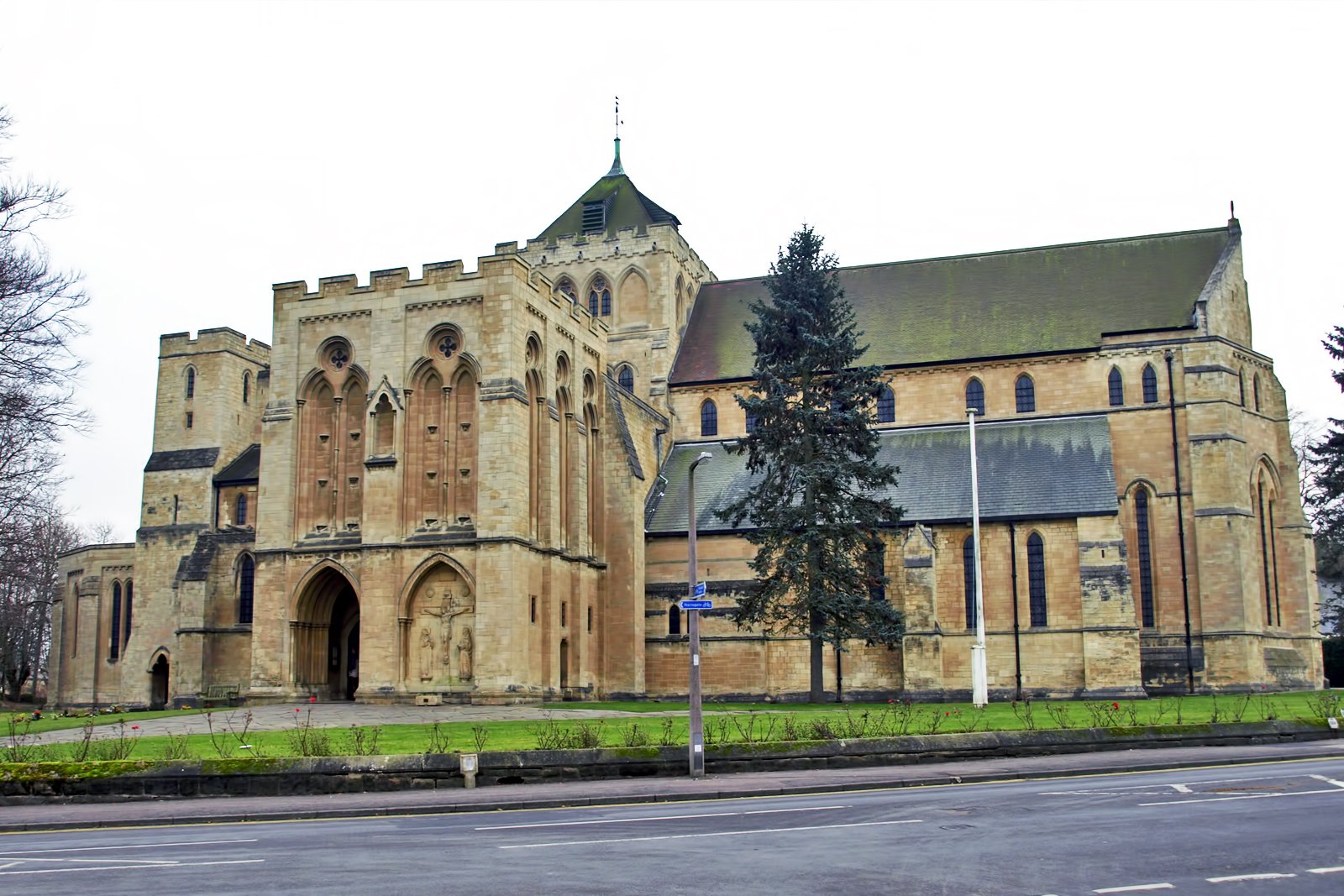 St Wilfrid's Church
Find peace and quiet in the beautifully designed church
The Grade I listed church just to the west of the town centre has a distinctly historical look, but is actually surprisingly new, with construction starting in 1904. It's noted for being the finest work of architect Temple Moore, who specialised in impressive Gothic-style religious buildings around that time.
The inside is just as dramatic, with interesting features including the Stations of the Cross artworks, the stained glass windows and the so-called "dove from above" sculpture over the font. The parish hall has an intricate lamella ceiling, though you'll need to make an appointment to see it.
Location: Duchy Road, Harrogate HG1 2EY, UK
Open: Daily from 9am to 6pm (or through the last evening service)
Phone: +44 (0)1423 504629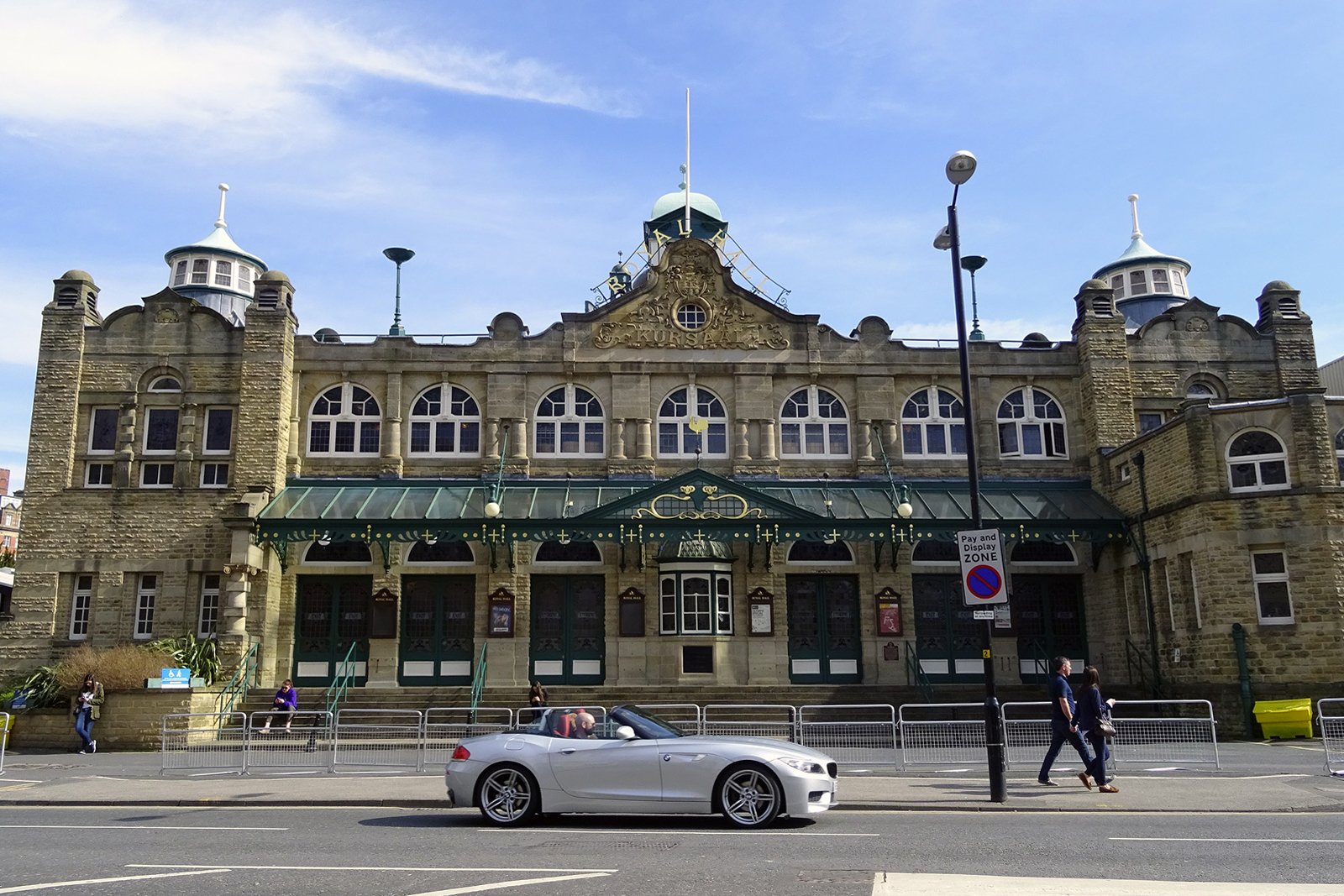 End the day with a show at Royal Hall
Take a seat in the fantastic Edwardian theatre
Harrogate has no shortage of theatres. There's the Harrogate Theatre, Studio Theatre and HIVE on Oxford Street and the Royal Hall on Ripon Road, with the Harrogate Convention Centre just behind it, on Kings Road. The Harrogate Theatre is the oldest, but the Royal Hall is, as you might guess from the name, the grandest.
A Grade II listed building with a capacity of nearly 1,000 seats, the schedule is packed with very regular shows, including musicals, dramas, ballet, and concerts. If you're in town in October, look out for the annual Harrogate Comedy Festival, featuring big names in stand-up comedy.
Location: Ripon Road, Harrogate HG1 1LE, UK
Phone: +44 (0)1423 500500
photo by Spudgun67 (CC BY-SA 4.0) modified