Piccadilly Gardens is a stretch of green space in the Manchester city centre between the Northern Quarter and Market Street offering a serene escape from the bustle of the city. Piccadilly Gardens offers water features, art, spectacular architecture, benches for relaxing, statues and buildings that trace the whole history of Manchester from the old Victorian shops through to ultramodern office towers.
Here you can experience historic, Grade II listed buildings all around as you relax and chill with a drink. It's a place where you can walk hand in hand with your loved one on a romantic couple's weekend, let the kids run and play on a family holiday or just take some time to be alone with your own thoughts. You might visit a small local market brimming with handmade crafts by local artisans and prepared local foods. Enjoy great shopping and dining, then catch a tram to anywhere you like.
Piccadilly Gardens in Manchester - one of the highlights of 10 Best Parks in Manchester (Read all about Manchester here)
Highlights of Piccadilly Gardens
The artwork and statuary are some of the best features of Piccadilly Gardens. You can visit statues of historical figures like Arthur Wellesley, the 1st Duke of Wellington. You can head for the fountain where children splash and play in the summer months, or walk along the controversial wall created by architect Tadao Ando to separate the gardens from buses and trams.
The green space is a huge attraction for people heading to Piccadilly Gardens. You can spread out a blanket for a picnic lunch on the lawns, let the kids run and play to their hearts' content or just kick back and people watch. Not far away, you can hit the major shopping district of Market Street or the nightlife and pubs in the Northern Quarter, while the centrally located tram and bus stops make it easy to get from here to anywhere.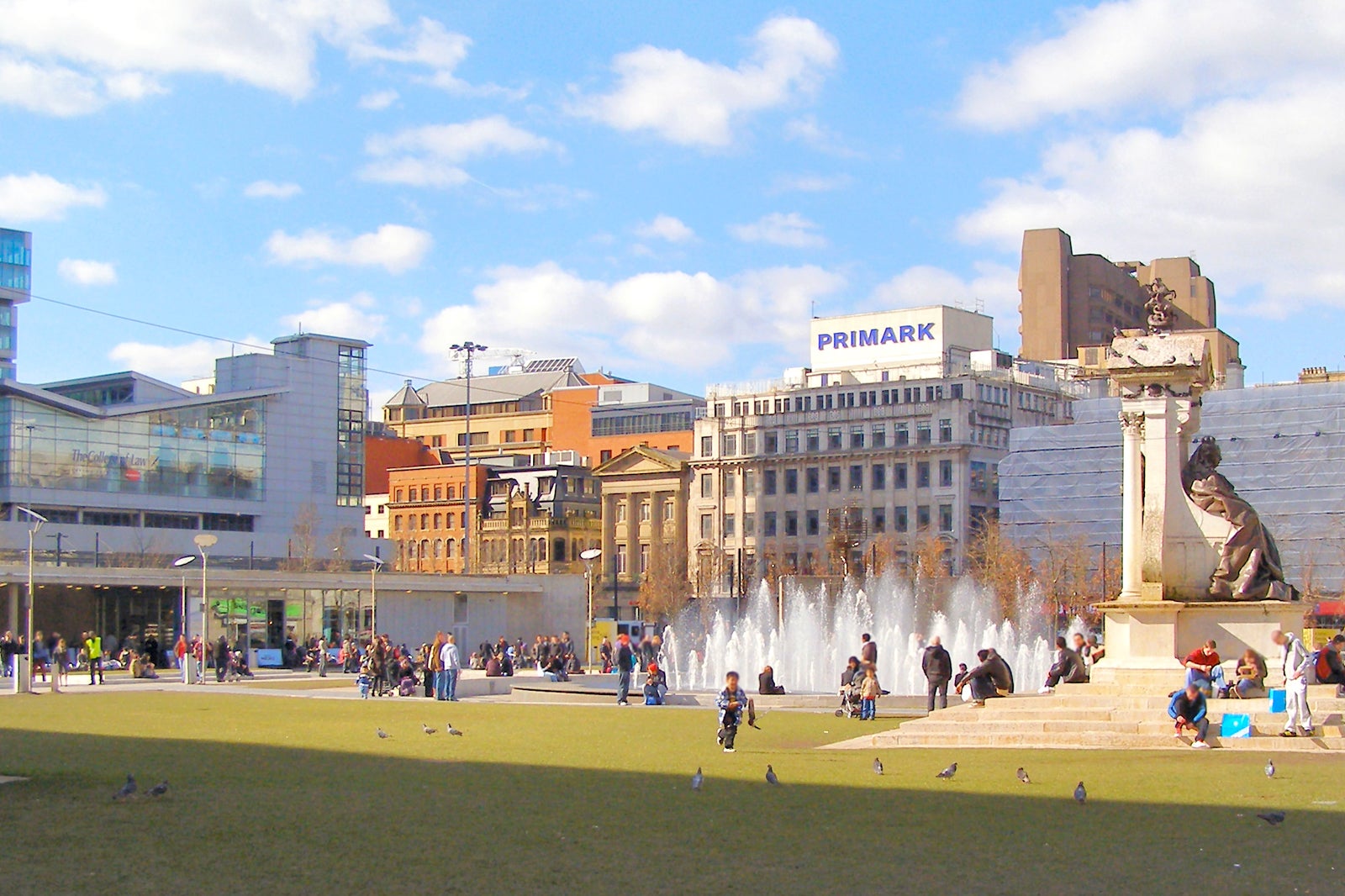 History of Piccadilly Gardens
Before 1755, Piccadilly Gardens was nothing but daub holes, water-filled pits of clay. These pits were eventually replaced by an ornamental pond. In 1755, the Royal Infirmary was built here, and the Royal Lunatic Asylum joined it in 1763. Both of these were moved between 1849 and 1910, and by 1914 the site became an open green space. It stayed that way for over 80 years until it fell to neglect and was in dire need of reclamation.
Between 2001 and 2003, the area was redeveloped and the One Piccadilly Gardens office building went up. The adjacent square was, and is, the central hub of the Manchester public transport system, and it was decided that it needed to be separated from the park. Japanese artist Tadao Ando created a huge concrete wall that has been controversial as a 'brutalist landmark', but it is nevertheless an attraction today.

Good to know before you go to Piccadilly Gardens
Piccadilly Gardens is a good place to come and relax, but it can get crowded at times, as it's a popular place for locals to go. As part of the Manchester city centre, Piccadilly Gardens is reachable on foot, as this is a walkable area. You can also drive here, but know that street parking can be expensive and hard to find. Public transport is a good bet because the Piccadilly Station is directly adjacent to the gardens.
Piccadilly Gardens is ultimately a family-friendly place to go, and kids enjoy playing in the fountain in the summer months. The pathways around the park are wheelchair friendly as they are paved, level and wide. You can bring your dog to the park on a leash, but be sure to clean up after them. Though it's largely a safe area, it's best to visit during the day.
Piccadilly Gardens in Manchester
Location: Manchester M60 1AY, UK
Open: 24/7
Why book with Hotels.com?