Lark Lane is a delightful street located just south of Liverpool city centre, in the leafy Aigburth area. While it's adored by locals for its independent shops, restaurants and cafes, most tourists visit this area for its unique nature.
Exploring the bohemian character of Lark Lane is a wonderful way to spend an afternoon in Liverpool. You can enjoy a stroll around the adjacent Sefton Park, a Victorian landmark and one of the city's largest green spaces. Whether you're shopping for a new outfit or seeking out a bite to eat at one of the many independent spots, this offbeat stretch of street on Liverpool's south side provides plenty of opportunity for fun.
Lark Lane in Liverpool - one of the highlights of 10 Best Things to Do for Couples in Liverpool and 10 Best Places to Go Shopping in Liverpool (Read all about Liverpool here)
What are the highlights of Lark Lane?
Lark Lane's famous community centre is housed in a former police station and acts as the street's cultural hub. Hosting everything from jumble sales and fairs to musical events and political talks, visiting Lark Lane Community Centre is a great way to gain an understanding of this tight-knit community.
Though perhaps best known for the quality of its restaurants, bars and cafes, Lark Lane has recently forged a reputation as one of Liverpool's premier spots for independent shopping.
Vintage clothing emporiums such as Larks offer a unique collection of retro fashion as well as jewellery, furniture and other vintage items. At Freida Mo's, visitors can peruse the collection of curated vintage clothing, jewellery and accessories whilst enjoying a homemade pastry and a cup of freshly ground coffee.
Arts Hub 47 is a must for those interested in purchasing local works of art including everything from painting to sculpture to ceramics. Nearby, the Witch House specialise in all things spiritual such as massage equipment, therapeutic oils and even a range of special healing crystals. At 13 Lark Lane Gallery, everything from quirky gift cards to incense to locally made jewellery is on offer, a great place to pick up a unique gift or souvenir for someone who has everything.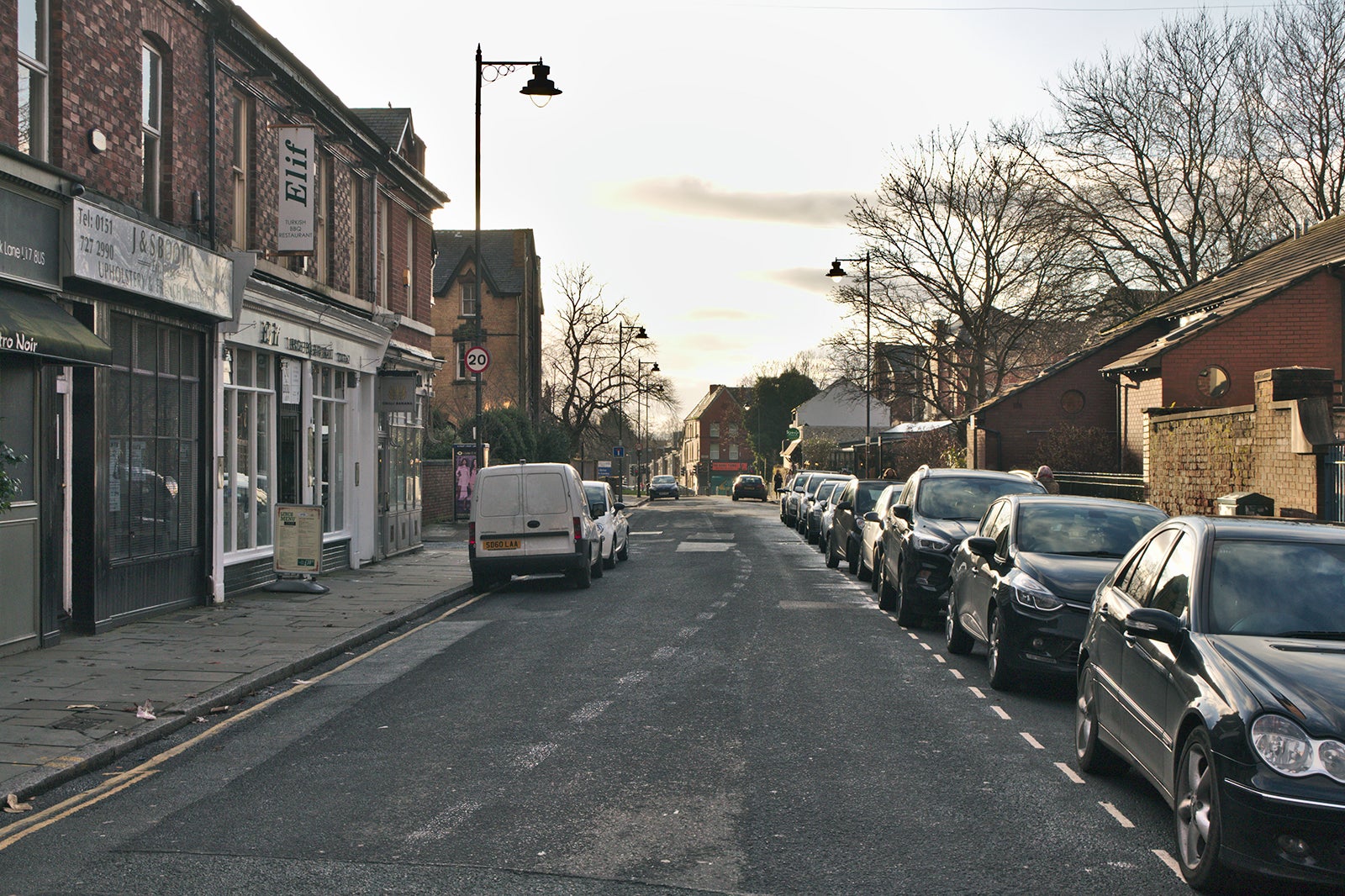 Where to eat and drink on Lark Lane?
Home to some of Liverpool's most popular restaurants, Lark Lane has long been at the centre of the city's gastronomic identity. One of the most iconic spots in the area is Keith's Wine Bar, where a bohemian spirit reigns supreme and the regulars are an eclectic bunch. This reasonably priced joint is famous for its shabby-chic decor, top-notch drinks list, and riffs on classic European dishes.
For those seeking more of a polished eating experience on Lark Lane, Polidor is a refined spot serving French-flavoured cuisine as well as excellent original and classic cocktails. Order a charcuterie board and settle down with a glass of delicious wine from their extensive list.
Lark Lane is a popular spot for drinking in Liverpool, meaning it has some of the city's finest pubs. The Lodge is a down-to-earth option that gets very busy at weekends, while the Victorian decor at The Albert lends this pub a more relaxing ambience. The younger crowd tend to frequent Love & Rockets where the selection of craft ales is accompanied by an extensive menu of classic American comfort food.
Good to know about Lark Lane
Lark Lane sits beside Sefton Park, one of Liverpool's most iconic open spaces and a great place to get away from the crowds of the city for 1 hour or two. Home to a stunning Victorian-era conservatory palm house, a granite obelisk, fountains and numerous statues, the heart of the park is its large boating lake.
Lark Lane in Liverpool
Back to top